Energy, Oil & Gas, Construction & Ports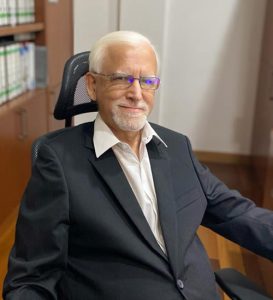 Mukesh Kapoor, ACII, Chartered Insurance Practitioner Technical Adviser
Mukesh was employed as an underwriter from 1973 in a couple of insurance companies for about 10 years before he joines Sarawak Shell Bhd, (Miri), the upstream company of Shell Group of Companies in Malaysia, in 1983 where he set up the insurance division. He quickly rose up the ranks to occupy various positions such as the Head of Commercial Services, including Adviser to the Major Tender Board and member of ad hoc Crisis Management Teams, which were set up following major offshore incidents such as offshore blowout, offshore oil spill and ship to ship explosion etc. He is recognised as designing the first offshore floater Construction All Risks Insurance programme in Malaysia, which has evolved since by others. A significant achievement was to get over the hurdle of effectively persuading Shell to self insure offshore operating pipelines etc, which saved the company significant sums of annual premiums.
After his stint in Sarawak Shell, he was promoted to Property & Risk Manager for the Shell Group of Companies in Malaysia, Kuala Lumpur in 1991 where he, inter alia, formed the Malaysian Association of Risk & Insurance Management ("MARIM") and was elected as its first chaiman. The organization has since evolved by leaps and bounds.
He was posted to Shell International (The Hague) in late 1995 to gain experience in Global Supply Chain statuaries and, thereafter, to Shell International (London) to join the SAP R/3 team. His stints there enabled him to provide solutions to Shell Operating Units in Malaysia, Singapore, Philippines, Thailand, Japan, India, U.K., Netherlands, Brazil, France and Czech Republic. Over the years, Mukesh has developed deep expertise in risks, liabilities, indemnities and insurances in the O & G industry with particular emphasis in offshore O & G Construction Contracts. He has also collected ca. RM 3 bln of various onshore and offshore insurance claims.
Mukesh Kapoor joined us on 1st Feb 2001 after leaving the Shell Group of Companies in Malaysia. During his stint with us Mukesh (and still continuing) he has among other things provided risk management and insurance solutions to the major Ports in this country, particularly Westport, Penang Port, Kuantan Port, PTP and Lumut Port. These solutions include drafting Liability and Indemnity clauses for the Ports' various service contracts, including 'Terms of Business' for Third Party Users and bespoke insurance policies for them. Other clients have adopted his recommendations in risk management philosophies, which include Knock for Knock regimes, negotiating Liabilities, Indemnities and Hold Harmless clauses in contracts, Risks & Insurance vis-à-vis Operational & Construction Insurances in the Oil & Gas industry.